We're Getting Mutants in the MCU - The Loop
Play Sound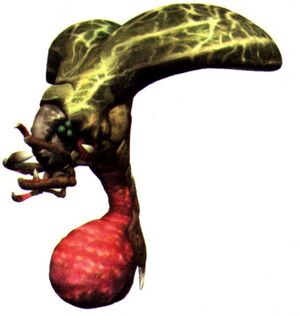 The arachnoth was a mutated creature found in the valley area near Excavation Site #74. Only one arachnoth is sighted by players of Panzer Dragoon Saga, although it is likely that more than one arachnoth existed in order for the species to sexually reproduce like other mutated creatures. Gash described the arachnoth using the word "him", suggesting that the arachnoth was male. The defeated enemy data for the arachnoth describes it as the "most dangerous creature in the valleys" suggesting that either this arachnoth travelled into other valleys or that other members of the species could be found in other valleys. Edge encountered the arachnoth at the end of the valley section of Panzer Dragoon Saga and he plays the role of the first main boss enemy in the game (the baldor queens that players encounter prior to the arachnoth are considered sub boss enemies).
The arachnoth was first introduced to players when Edge and his dragon are flying through the valley. The valley surrounding Edge began to shake and dirt flew upwards in the distance. Gash, riding a coolia, was being chased by the arachnoth. The arachnoth smashed through the valley wall in pursuit of Gash. The arachnoth was easily angered, and it appears that Gash did something to provoke him, either accidentally or deliberately, although it is also possible that the arachnoth saw Gash's coolia as food. It appears that Gash was attempting to get the arachnoth to hurt or kill himself. When the arachnoth ran into another large rock Gash laughed and declared that he had squished the arachnoth like a bug. However the arachnoth had not been knocked unconscious. The arachnoth smashed the path that the coolia was running along and the coolia fell into the abyss below, with Gash narrowly missing death himself only by performing a spectacular forward flip onto the nearby ledge. The arachnoth was about to devour Gash, when Edge's dragon's lasers knocked the arachnoth to one side, giving Gash time to hide in a nearby cave.
With Gash hiding in a nearby cave, Edge took on the arachnoth using the power of his dragon. The arachnoth was a large creature and heavily armoured. He was dangerous from the front, and had the ability to perform an attack called "devour" in which he would try to eat Edge and the dragon before spitting them back out. The arachnoth could also use digestive fluid and his tentacles to inflict damage onto the dragon and could also ram into opponents. When charging, the arachnoth would crash into a nearby valley wall and temporarily knock himself unconsious. He was evidently powerful but not very smart. Players controlling Edge can use this opportunity to fire lasers at the newly exposed weak spots on the arachnoth's rear without fear of being attacked in the process.
When the arachnoth was defeated he struggled in midair for a few moments before letting out an angry cry. The arachnoth flipped upside down and let loose a fountain of red as he fell into the valley below. Edge exclaimed, "I sure hope that thing is dead!"
External links