Jurassic World: Dominion Dominates Fandom Wikis - The Loop
Play Sound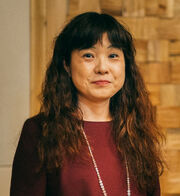 Saori Kobayashi is the composer of Panzer Dragoon Saga, Panzer Dragoon Orta, and Panzer Dragoon: Remake. She also composed the music for Crimson Dragon: Side Story and Crimson Dragon (with Jeremy Green).
Biography
Saori Kobayashi was born on July 31 in Yokohama City, Kanagawa Japan.[2] She graduated from Musashino University of Music with a Piano major.
Panzer Dragoon Saga
Kobayashi is known for her work in the Panzer Dragoon video game series. Her first project was Panzer Dragoon Saga, which would later become on of her favorite video games. To create the music, Kobayashi first came up with a method for making themes for each of the important characters and backgrounds. She then developed variations of these themes.[3] She developed Panzer Dragoon Saga's soundtrack by generating music with the Sega Saturn's sound chip. Kobayashi has stated her view that if the limitations of the 90s hardware weren't present, then perhaps the unique sound attributed to that era may never have been created.[4]
When creating the ending theme for Panzer Dragoon Saga, Sona mi areru ec sancitu, Saori Kobayashi was instructed by Yukio Futatsugi to end the game in a way where there isn't closure. The song fades out, open-ended, with the intention that player would wonder what happened."[5]
Panzer Dragoon Orta
For Panzer Dragoon Orta, Saori Kobayashi switched from generating the music with the console's sound chip to recording the music in a studio, making the result closer to the original Panzer Dragoon, but expanded on music from Panzer Dragoon II Zwei and Panzer Dragoon Saga.
AKANE
In 2003, Saori Kobayashi formed a band with Yumiko Takahashi called AKANE. They have released three albums: Kochae, Journey, and Terra Magica.
20th Anniversary of Panzer Dragoon Saga
For the 20th anniversary of Panzer Dragoon Saga, Saori Kobayashi released an orchestral version of Panzer Dragoon Saga's soundtrack called Resurrection: Panzer Dragoon Saga 20th Anniversary Arrangement, containing new arrangements of twenty tracks from the game using a live orchestra. In an interview with the Verge, Kobayashi stated that she was able to achieve the kind of music that she wanted to create twenty years ago, but wasn't possible then.[6] Saori Kobayashi has stated that, given the chance, she would be interested in revisiting some of the Panzer Dragoon Saga songs that weren't included due to time constraints, along with creating a similar album for Panzer Dragoon Orta.
Panzer Dragoon: Remake
Shortly before the release of Panzer Dragoon: Remake, Saori Kobayashi released a video announcing that she would arrange the original soundtrack by Yoshitaka Azuma "in a manner that respects Azuma's original compositions while striving to meet the expectations of today's gamers and the capabilities of modern consoles".[7] The arranged soundtrack by Kobayashi wasn't included in the release version of the game, but was added as part of the first patch.[8]. In 2021 the music was released as in as an album by Brave Wave Productions.
Discography
Azel: Panzer Dragoon RPG Complete Album
Kochae
Journey[9]
Terra Magica[10]
Resurrection: Panzer Dragoon Saga 20th Anniversary Arrangement[11]
Panzer Dragoon: Remake The Definitive Soundtrack[12]
References
External links