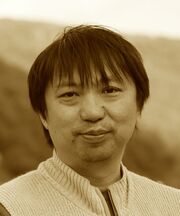 Yukio Futatsugi is the director of Panzer Dragoon and Panzer Dragoon Saga, and was the head of Team Andromeda. Futatsugi was 23 years old when he took over Team Andromeda and 25 when the original Panzer Dragoon game was released in 1995.[2]. He currently works at his own development studio, Grounding Inc, which developed Crimson Dragon.
Yukio Futatsugi read The Long Afternoon On Earth by Brian Aldiss during his childhood. In the novel, humans struggle to survive, as vegetation spreads, devouring all animal life in its wake. The Long Afternoon On Earth was an early inspiration for Panzer Dragoon.[3]
Futatsugi found Panzer Dragoon Saga to not only be the hardest Panzer Dragoon game to make, but also the toughest project he has ever worked on.
Yukio Futatsugi has stated that Craymen is his favorite character in Panzer Dragoon Saga.[4]
Games
[
]
Gallery
[
]
References
[
]
External links
[
]