We're Getting Mutants in the MCU - The Loop
Play Sound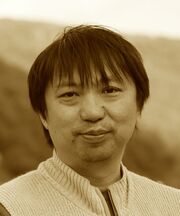 Yukio Futatsugi is the director of Panzer Dragoon and Panzer Dragoon Saga, and was the head of Team Andromeda. Futatsugi was 23 years old when he took over Team Andromeda and 25 when the original Panzer Dragoon game was released in 1995.[2]. He currently works at his own development studio, Grounding Inc, which developed Crimson Dragon.
Early inspirations
Yukio Futatsugi read The Long Afternoon On Earth by Brian Aldiss during his childhood. In the novel, humans struggle to survive, as vegetation spreads, devouring all animal life in its wake. The Long Afternoon On Earth was an early inspiration for Panzer Dragoon.[3]
Life before Sega
Yukio Futatsugi grew up in Kobe, Japan. He spent a year in San Francisco while in the primary school. It was there that he developed an interest in video games such as Pong and Space Invaders.[2]
In high school, Futatsugi wanted to become a filmmaker and made movies on 8mm with his friends. When it came time to choose a university course, he had to choose between film and video games, and he decided on the latter because he thought the world of video games was "about to become interesting".[2]
Futatusgi attended the University of Tsukuba, Tokyo, where he graduated from a computer science course. Before graduating, Futatsugi started applying for jobs, including Konami, Namco and Sega. Sega was the first to offer him a job, and as it was his first choice, he cancelled his application for Konami.[2]
Career at Sega, pre-Team Andromeda
Yukio Futatsugi joined Sega in 1991. In his first month, he assisted in the development of the Game Gear version of Shinobi. He was then assigned to a department to learn how games were made.[2]
Panzer Dragoon
Approximately two years after Yukio Futatsugi joined Sega, the company asked for proposals for games for its forthcoming Saturn console. Futatusgi handed in several proposals, one of which was Panzer Dragoon. Sega accepted his proposal for Panzer Dragoon and put him in charge of the project.[2]
Panzer Dragoon Saga
Futatsugi found Panzer Dragoon Saga to not only be the hardest Panzer Dragoon game to make, but also the toughest project he has ever worked on. He has stated that personal relationships became strained and that stress became overwhelming.[2]
Yukio Futatsugi has stated that Craymen is his favorite character in Panzer Dragoon Saga.[4]
Original Panzer Dragoon Saga concept
Yukio Futatsugi originally envisioned Panzer Dragoon Saga as something more like thatgamecompany's Journey.[1]. Team Andromeda didn't go ahead with this concept because they thought players wouldn't want to play a game so open and distant from the original Panzer Dragoon.
Music
Futatusgi wanted the game's song to sound tribal, so he gave Saori Kobayashi some tribal music that he liked at the time for her to take inspiration from. Futatsugi was pleased with the music Saori Kobayashi wrote for Panzer Dragoon Saga, especially the theme song.[1]
Career after Sega
Yukio Futatsugi quit Sega after Panzer Dragoon Saga's completion but prior to the game's western release.[1] He has worked and directed a number of non-Panzer Dragoon titles since, including Phantom Dust and Crimson Dragon. He currently leads the development studio Grounding, Inc.
In September 2017, it was announced that Yukio Futatsugi's company Grounding Inc was working on The Good Life, with Grounding leading the production work.[5]. Futuasugi hopes to bring back some of the magic of older games, where each new game brought players a brand new experience.[6] The Good Life was released on October 15, 2021.[7]
Panzer Dragoon continuation idea
If Futatsugi was to make another Panzer Dragoon game, he has said he would probably make a more open game "about going on an adventure on the back of a dragon", which was the original plan for Panzer Dragoon Saga, instead of following a storyline. It may not force the player to ride a dragon.[1]
Games
Gallery
References
External links